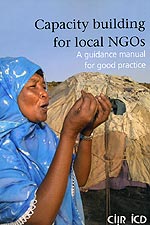 The aim of this manual is to help local non-governmental organisations (NGOs) achieve the greatest possible programme impact through the best organisational practice. It can be used training and development or by local NGOs as a self-help manual.
This manual is designed to help organisations in the making, both new local NGOs and those that have been working for some time, by outlining some basic standards of best practice. Smaller community based organisations (CBOs) may also find some parts of it helpful. However, the primary target audience is NGOs working at national or regional (provincial) level in partnership with CBOs working at community level, or directly with communities.
The manual is designed to be accessible to NGOs regardless of the number of staff they employ or the size of their budget. Larger, more complex organisations employing experienced and technically skilled personnel may find that they already use many of the procedures and processes suggested. However, even these organisations may find some useful checklists to help them reach ever higher standards.
The manual can be used as a step by step guide to developing an effective and well-managed organisation that makes best use of its people and financial resources to design, deliver and develop its programme. The chapters can be used individually for reference on the topics covered.
Each chapter contains examples of best practice as well as a number of exercises and prompts in the form of 'issues to consider'. These can be used in small internal discussions or larger workshops to help clarify thinking on key aspects of organisational development.
Contents:
The basics
Organisational governance
Strategic planning
Managing finances
Managing people
Managing projects
Office administration
Publicity and fundraising
Further reading and resources
Promote content